Targeted at kids and adults alike, The House that Went on Strike is a poem of sorts about a house whose occupants fail to take care of the house.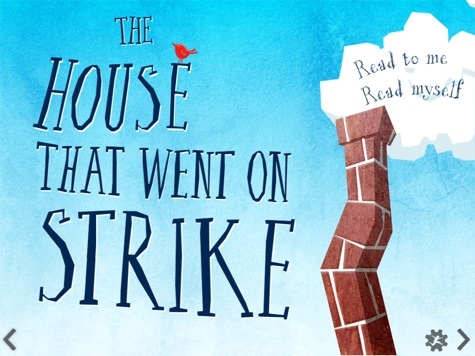 The main idea of the app is the revolting nature of the house which goes on a strike against the dwellers. Helping it in its quest are the appliances inside the house such as the refrigerator, stairs, and windows. As you can imagine, it is total chaos for those living in the house.
So, the story goes like this:
My roof was ancient, my chimney was grimy
My windows were streaked and my walls were all slimy
My shingles were battered, I had no sense of pride
And if you think that looks gloomy, take a look inside

Storyline Specifics

The story may sound vague but the app takes very specific measures as part of its strike.

For example, the entire house goes on a full 'Clean Revolution' where different appliances throw their tantrums at those who live inside. With a touch of comedy in it, the story has an oven that shouts "Fire! Fire!", a dishwasher that throws plates at the kids, a toaster that slips bread at the father, and a joint effort by the hairdryer and the washing machine to trip the mother.

The app itself has been constructed well with a right dose of animations and colors. If you are playing with your kids, the jingle sounds and narration will keep them occupied in the story. There are also some touch controls that make the app slightly interactive. The animations involving the stairs (that turn into a slide) and a spotlight machine will be massively entertaining to a kid.

We also liked the standalone theme song that is catchy enough to stay with you for a few days even after you are done with the story. This is a great feature in a kids' app that is very uncommon these days.

The story is narrated by former Congresswoman Patricia Schroeder. She is a popular personality in US politics and her narration definitely adds to the pleasantness of the app.

Although the app could be a bit more user-intuitive, especially when it comes to controlling the settings, we are not blaming it. The theme of being self-sufficient and doing one's own chores compensates for the minor shortcomings.

Conclusion

The bottom line is that The House that Went on Strike is a cute little story app that stresses on the importance of taking care of your house and its appliances. Some good animation and a catchy theme song come together to make it a playful app. Available to purchase on the Apple App Store.